Here's an essential lesson. Using Paradiddles as grooves.
I use this type of groove every single time I play the drums at some stage or another. It's the perfect way to take a basic groove and give it a lift. In essence, we are playing a single paradiddle (RLRR LRLL) between the hi-hats and the snare drum and adding bass drums throughout as needed. Simple in theory yes?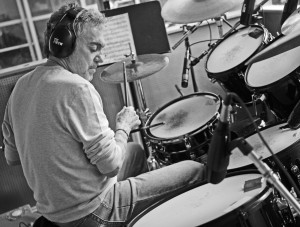 In reality, this groove can sound very busy an uncharacteristically out of context if not treated properly. If you're playing a basic drum beat with the snare drum on 2 and 4, you wouldn't want to lose the backbeat when you played your fancy paradiddle groove. It would detract from the music and yield some looks from the band. As such the way to approach this groove is to play the paradiddle itself softly and emphasise beats 2 and 4 with an accent on the snare drum. This way, the essence of the groove is still there and it makes the paradiddle groove way more useful in a variety of situations.
So in a bar of 4/4 time you would play this:
R L R R  L R L L  R L R R  L R L L
If you wanted to, you could put an accent on the beats 1 and 3 too on the hi-hat. You'd end up with this:
R L R R  L R L L  R L R R L R L L
The PDF available for download below has some exercises using the paradiddle as shown in the hands and a variety of bass drum patterns to go underneath. You'll discover some easy beats and ones that will challenge you. For the grooves to feel good, make sure you keep the non-accented notes soft – even when you play your bass drum! This will mean playing soft on the left hand while you kick with your right foot – rather tricky at first.
It's entirely up to you if you want to put an accent on the hi-hat when you play the bass drum under it. Bear in mind though, if you're using these grooves as a replacement for a basic groove, other accents besides the backbeat could take away from the fundamental feel. Be careful of that. If it's fill? Go for it. Do whatever!
Steve Gadd is really good at Paradiddle grooves and this concept in general – he's taken things a step further but definitely worth checking out as he's a master at ghost notes. Gadd often uses a hybrid groove RLLR LRLL – a mixture of the inward and single paradiddles. Lot's of possibilities available.
Enjoy the vid.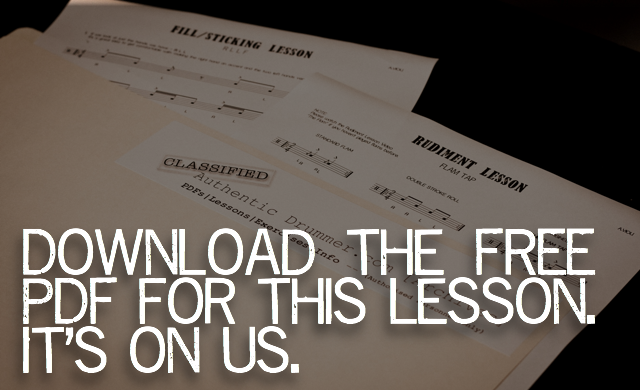 Click here to download your exclusive PDF